Upper Darby High School
Class of 1970
Welcome to the on-line home
of our Alumni Community
Stephanie Abramides Carroll's email: SACarroll0121@verizon.ne
t
Carole Smith's email: artcsmithstudio@verizon.net
Take the Survey -
Which Elementary School Did You Attend?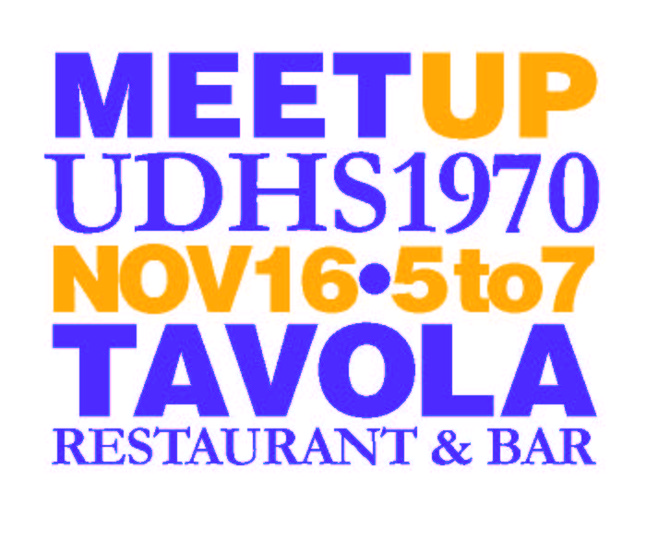 Hi all ... We often hear from our classmates that you would love the opportunity to get together to just hang out casually and catch up in between reunions.
If this is you, please come to Tavola on Friday, November 16th to do just that. This is a very informal gathering, in a casual setting. We plan to be at the bar between 5:00 to 7:00 P.M.
We hope to see you there and hear what's going on with you!
Get the word out - Go Royals!!
Visit us on FaceBook, too: Upper Darby High School Class of 1970
Tavola Restaurant at the Springfield Country Club.
The address is 400 W.Sproul Road, Springfield, PA 19063.
Phone is 610-543-2100
Looking forward to seeing you!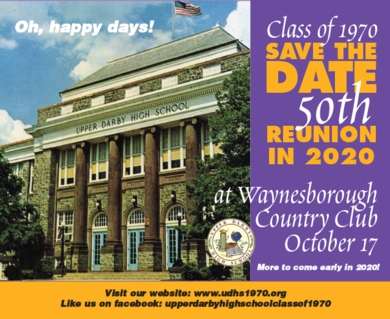 Keep the good time going!
If you are out of town or local, why not plan to book a room for the Reunion Weekend, October 16 & 17, 2020. We will be blocking rooms at the beautiful Embassy Suites by Hilton Philadelphia-Valley Forge in Wayne, PA. Plans are in place for a Friday Night Ice Breaker at the Embassy, as well as gathering for Sunday Morning Breakfast!
We have a block of rooms at a special rate, but these are not available to book until next year (November 2019). More information will be posted here on a regular basis.
Two Years Until The Big 50 Reunion!!!!
See what our classmates are doing.
Share your photos with us.
Lunch at Trattoria Guiseppe in Newtown Square, PA. It's someone's birthday!! October 2018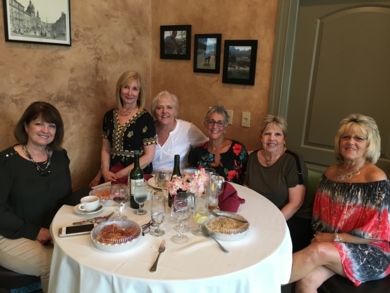 Left to Right: Lorraine Bertulis Majcher Patricia Patero Shively, Kathy Lawler, Stephanie Abramedes Carroll, Cheryl Eisenhuth Whiteley, Jill Taylor Mckinney.
* * * * * * * * * * * * * * * * * * * * *
The New Senior Week? September 2018: Maria Rappas Magee and Stephanie Abramedes Carroll together in Ocean City, New Jersey.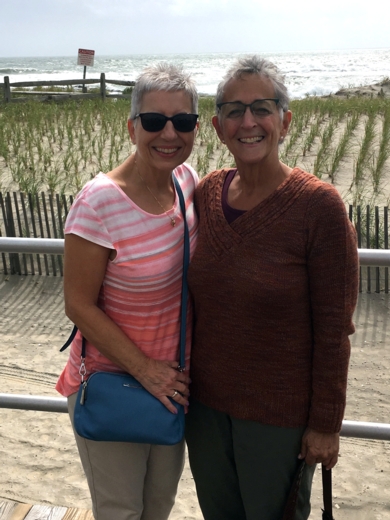 * * * * * * * * * * * * * * * * * * * * *
Dining Under The Stars - Media, August 2018: Wednesday evenings, May through September, the Dining Under the Stars™ event closes State Street from Jackson to Orange. You can Stroll, Shop, Dine!
Clockwise: Dawn Calzada, Carole Smith, Dan Hey, Stephanie Abramides Carroll, and Joe Charma.
* * * * * * * * * * * * * * * * * * *
Ladies Luncheon - June 2018: A few of us got together at the Chadds Ford Tavern for lots of laughs!!
Clockwise: Dawn Calzada, Lorraine Bertulis Majcher, Patty Patero Shively, Patte Marshall Michel, Jill Taylor Mckinney, Cheryl Eisenhuth Whiteley, Kathy Lawler, and Stephanie Abramides Carroll.
Two Years Until The Big 50 Reunion!!!!
Tell Your Friends to Update Today!!!!
Hey Everyone - 280 people updated their profiles since we started this in March 2008!!!! That's 40% of our class list! Let's set a new goal and get 50% by year end? Some of our classmates have interesting stories and photos - take a look. OR - even better - add your story. Also - please give us your feedback, and updates. Take a look at the "Remember" page and let us know if we should add some things that we may have "Forgotten....."
Add comments to your friends' profiles - Yearbook Pictures are now loaded
Visit our Yearbook - The Oak
Visit the "In Memory" page and add your comments to remember our classmates who have passed on.
Make sure you update your profiles and visit the message forum. Also, please keep your contact information current so we can reach you for our Big 50th Reunion !!
Our Web-Site Privacy Settings
Please note that there are several ways to ensure your privacy in our web-site.
On your profile page we recommend you check the first box. This blocks your information from the general public - that is - if you are Googled - only those with a password to our site will have access.
The second and third boxes are at your discretion - check or uncheck as appropriate.
Visit the FAQs/Privacy Policy Link and please contact us if you have any questions -
Patte Marshall - Michel
Please keep your profile up-to-date!
In the last year, most of us have received and are using our Medicare Card. Looking at the occupations listed in our profiles, we can observe that a bunch of us retired in the last year. It may be more fun if we listed "Retired - Dentist" or whatever our profession was. That way we can see what professions our classmates chose. (September 30, 2018)