Royal Tribute Memorials
Jake (Jacob) Young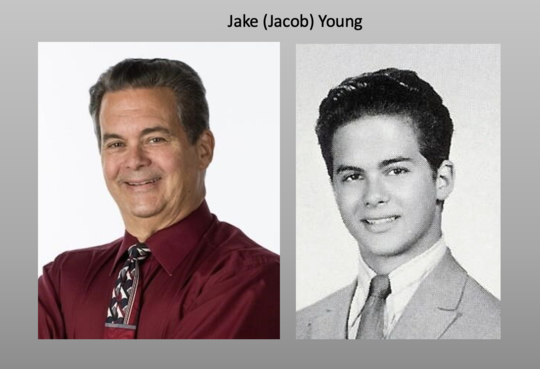 Jacob Simon Young IV
Jan 31, 2021

Reno - Jacob Simon Young IV, better known as Jake, was born in Philadelphia on a Good Friday, April 11, 1952, to Doris (Freed) Young and Jacob Young III. He bravely and with optimism battled a rare form of brain cancer, beating it in 2018 after a long series of hospitalized chemo treatments. When it returned in November 2020, he was once again optimistic, setting out to beat it, but the odds were strongly against him this time, so he succumbed to the cancer and passed at home on Jan 31, 2021.

Jake was the Fourth (IV) in a line of Jacobs, and his great-grandfather owned the last farm in south Philadelphia. Growing up in Upper Darby with his younger sister and brother, he was involved at Sellers United Methodist Church, Boy Scouts, and Sea Scouts. Jake graduated from Upper Darby High School in 1970, attended PMC (Pennsylvania Military College/Widener College) for two years before transferring to West Chester State College (University). At West Chester, he was active in Pi Lambda Phi fraternity, and it was here where he met his wife Linda (Wiand) in 1972. In 1974 he graduated with a BS degree in Business Management and started dating Linda. They were married in February 1976, and two short months later moved to Sacramento, California area so Jake could take a sales position for Main Line Book Company, covering the Northern California/Nevada territory. After various sales jobs and a short stint in the title insurance industry, Jake started his own business, U.S. Trust Deed Services, Inc. in 1981. They also started a family in 1983. A few years later they also opened two franchised hair salons, Kenneth of London, in Rancho Cordova and in Fairfield. In 1992 Jake moved his family to Sparks, Nevada to take the position of Operations Manager at Montgomery Wards. Upon the store's closure, he became a successful sales associate at Macy's Furniture Store. His career path was always in sales and management, and in 2008 he settled into his last and favorite job as a health insurance broker with Health Benefits Associates in Reno for the last 13 years.

Jake was high energy, fun-loving, and passionate about people and things he loved. He loved watching action movies, blasting classic rock and roll, watching football, especially if he could root for his Philadelphia Eagles or the San Francisco 49ers. In his younger days, he was an avid fisherman and took a few fishing expeditions to Alaska and British Columbia for king salmon. He was enthusiastic about keeping himself strong and fit, going to the gym regularly, and even participating in the Senior Olympics for weight lifting. He loved classic "muscle" cars, belonged to several car clubs (Battleborn Mopars, Klassic Kruisers, and God's Rods), and attended many car shows besides the official Hot August Nights events. He was also a member of the Masonic Lodge in Reno, and an active member of Sparks United Methodist Church. He loved the outdoors and traveling to see new places, preferably on a road trip to the National parks or mountain or coastal places. Lake Tahoe was a favorite family vacation spot to spend time at their timeshares, and enjoy hiking, four-wheeling, and outdoor activities.

He had a strong faith and loved his savior Jesus Christ, his wife, and his family. He will be missed by many. He is survived by his wife Linda of 45 years, children Jake V (Shannon Henderson), Kathryn, and Christina, grandsons Dylan and Daniel Young. And mother Doris Young, sister Debi Perna (Albert), brother George (Nanci), and many Pennsylvania relatives, consisting of nieces, nephews, cousins, and his Aunt Dolly (Myers) in Florida, and cousin Sandy (Stanley) in Texas. A Celebration of Life memorial service will be held April 12th at 2:00 pm at Sparks Christian Fellowship, with limited seating.
Published by The Reno Gazette-Journal and Lyon County News-Leader from Mar. 17 to Mar. 28, 2021.