Royal Tribute Memorials
Robert T. Allen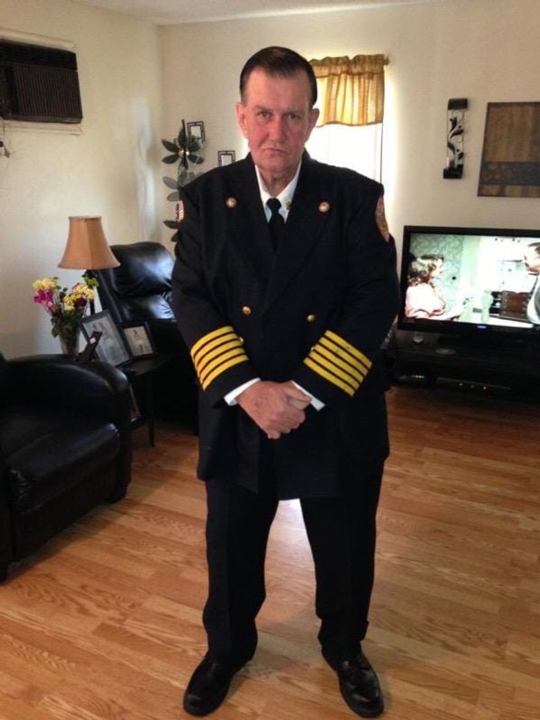 Robert T. Allen Sr. "Slimbo" of Collingdale PA
Born April 25, 1952 - November 14, 2019
Died peacefully surrounded by his loving family at The University of Pennsylvania Hospital in Philadelphia,Pa
Vietnam Veteran (Navy) USS John S. McCain DDG36 "Flagship" gunman, deck man and barber.
Past Captain of Cardington Firehouse Station 36 where he was a lifetime member and got his nickname "Needles", Past Chief of Darby Fire Co #1 Station 04 where he was a lifetime member and got his nickname "Slimbo", Current Captain of the Fire Police. He was also a member of the Darby VFW post 598
He worked at the Philadelphia Naval Shipyard, Darby Borough Highway foreman where is was Borough Chief
He was a Graduate of Upper Darby Highschool Class of 1970.
He grew up in the Cardington section of Upper Darby and then married the love of his life Peggy, with this union they had 4 children. He always looked forward to his Friday night card games at the fire house, fishing trips, parades, banquets, conventions, playing softball, anything that had to do with the firehouse made him happy. He especially enjoyed mentoring the younger fire fighters. He loved doing the fire prevention set ups at our house. One thing he loved most was being Santa Clause riding on the fire truck every Christmas Eve. He loved that he put smiles on children's faces. He was an avid Eagles fan. He loved all of the Philadelphia sports teams. He loved his family and adored his grandchildren and great grand children. Spending time with his family is what mattered most. He loved going to local diners, the casinos, and just talking to people. He was known as "Pop" to everyone whether they were related or not. He had many many stories to tell.
Robert T. Allen Sr "Slimbo"
Son of the late Constance Walsh and the late (Stepfather) Michael Walsh, The late Samuel R. Allen Sr And the late (Stepmother)Doris Allen. Leaves to cherish his memories his loving children.
Son: Bobby Allen Jr. ( Stephanie)
Daughters: Maria Allen (Greg), Tina Harris (Ray) and Bethann Allen (Kenny)
Brother: Samuel R. Allen Jr( Patty)
Sisters: Arlene Stromberg ( Bernie) and Connie Trinkle (The late Rich)
8 Grandchildren: Kiersten, Mackenzie, Kenny Jr, Mikaylah, Bobby III, Bridget, Emilee and Addison
3 Great Grandchildren: Cameron, Ayden and Zion
1 Grandcat Lynbrook that he loved very much
A host of Neices, Nephews, Aunts, Uncles, Cousins and friends.
He will be dearly missed by everyone... he always had a story to tell so that's what will keep his memory alive and also keep us laughing for years to come!
Relatives & friends are invited to his viewing Friday Evening 6-9 p.m. and Saturday Morning 9-10:45 am all at the Blessed Virgin Mary Church 1101 Main St. Darby, PA 19023. Interment Holy Cross Cemetery.
http://danjolell.tributes.com/obituary/read/Robert-T.-Slimbo-Allen-107787720