Royal Tribute Memorials
George Schwindt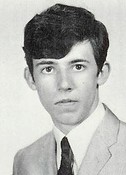 George W. Schwindt, 57, March 23, 2009 (Delco Times)

Longtime Yeadon resident; USAF vet

George W. Schwindt, 57, a longtime resident of Yeadon and an Air Force veteran, died March 23 at his home.

Born in Philadelphia, Mr. Schwindt graduated from Upper Darby High School in 1970. Later, he received his bachelor's degree in agronomy from Utah State University.

An Air Force veteran, Mr. Schwindt worked as a U.S. Postal Service employee for more than 20 years.

Mr. Schwindt enjoyed jazz and playing the drums.

He was the son of the late George and Catherine Donnelly Schwindt. He was the brother of the late Donald Schwindt.

Survivors: Sisters, Catherine French of Hillsdale, N.J., Jean Phillips of Holmes sections of Ridley Township.

Service: 11 a.m. Friday at the Cavanagh Family Funeral Home, 301 Chester Pike, Norwood.

Visitation: After 10 a.m. Friday at the funeral home.

Burial: Valley Forge Memorial Gardens, King of Prussia.

Contributions: American Diabetes Association, 150 Monument Road, Suite 100, Bala Cynnwyd, PA 19004.