Royal Tribute Memorials
William P. Yarnall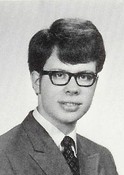 William "Pax" P. Yarnall, 58, of Morton, a retired paper company employee, died Oct. 7 at Taylor Hospital.
Born and raised in Upper Darby, he was a resident of Secane before moving to Morton 16 years ago. Mr. Yarnall was a graduate of Upper Darby High School. He worked at Kimberly-Clark, formerly Scott Paper Co., for 33 years before retiring in 2006 due to illness.

Mr. Yarnall enjoyed his pets including lizards, birds and cats. He was the son of the late William and Helen Platus Yarnall.

Survivors: Wife of 37 years, Rachel Ferry Yarnall; sons, Benjamin I. Yarnall of Glenolden, Jonathon W. Yarnall of Glenolden; brother, Alan Yarnall of Bryn Mawr.