Royal Tribute Memorials
Gary Bage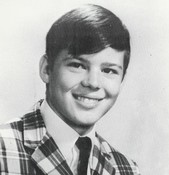 Gary and his dad died in a tragic automobile accident in August 1968 while traveling South on vacation.
A driver traveling in the Northbound traffic crossed over the medial strip and crashed head-on into Gary's family car.
Gary's younger brother, Michael, survived the accident and told me he still thinks of Gary everyday. He is a Guest on our site and would appreciate hearing or seeing your comments about Gary. Or if you remember Michael - just send him an e-mail and say "Hi!"
Below are some pages from the 1968 Oak with Gary's pictures.